Hylax Technology is the biggest industrial laser application and process development center in South East Asia. Our dedicated efforts in working with customers through the years has enhanced our expertise and experience enabling us to develop many proven laser solutions for industries. Our high precision, innovative, cost effective, competitive and practical solutions have been able to meet the most demanding applications worldwide. We have invested in a comprehensive application laboratory where we can make samples and build prototypes to support customers' needs. Our large customer base includes applications in the electronics, semicon, flat panel displays, hard disk, plastics, biotech, jewellery and machining industries.
We have grown to develop and manufacture our own high quality range of laser systems and vision inspection/verification systems. We have built up a strong team of highly capable, experienced and competent engineers, coupled with our relentless effort and investment in R&D. We have created our own software and electronics to control the lasers, scan heads and automation to give us the freedom and flexibility to develop innovative, advance and practical laser solutions for the industry and compete in the global market.
Our vision & mission statement
Mission: "Together we create innovative solutions for a brighter future"
Vision: "Passionate people, innovative products, satisfied customers"
Our Core Capabilities
Hylax Technology has an unique mix of core capabilities in the area of laser & laser applications, vision, optics, software, electronics & electrical, controls, mechanical & automation. The integration of these capabilities have allowed us to come up with innovative, practical and cost effective laser process and precision automation/manufacturing solutions.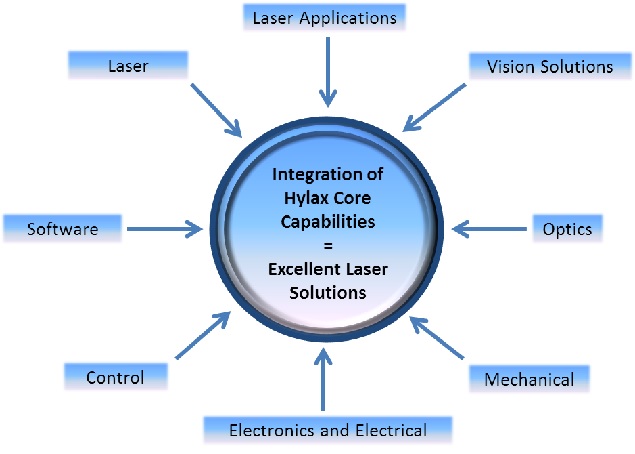 Our History
Hylax Technology was formerly known as Hypertronics(Singapore). Hypertronics was established in 1991 to sell and service NEC laser equipment into the ASEAN and India regions. Subsequently it decided to become independent to design and built it's own laser equipment for a variety of applications in many industries like semicon, flat panel display, hard disk, electronics and biotech. It also developed the ability to manufacture DPSS laser sources using it's own innovation in collaboration with SIM Tech, a Singapore Research Institute. Besides this it also set up branches in countries like Malaysia, Thailand, China, Taiwan and USA.
After growing for more than 20 years Hypertronics was acquired by Coherent (USA) as a base to establish it's presence in Singapore. Subsequently Coherent decided to spin off a segment of Hypertronics business, namely the assembly and servicing of laser process equipment which was incorporated as a separate company called Hylax Technology. Hylax Technology was also given the charter to support Hypertronics' customers and repair or retrofit old equipment and machine tools sold by Hypertronics previously.
Customer List
We have a large customer base comprising of many industries. Below list is a small selection. The first column is from consumer electronics like ink jet printers and electric meters manufacturers. Next are LED makers, biomedical industries, flat panel display and semiconductors. First column bottom row includes hard disk and connector manufacturers.