Hylax has been developing laser marking solutions for many years and to many industries. This ranges from marking on large products like flat panel displays to micro marking that is almost invisible to the naked eye yet able to store over 100 characters of information. Besides that we build many highly automated solutions for marking on impossible location of the product. Yet we are able to satisfy our customers with unique innovative solutions. We are able to do it with technology such as Scanvision and having full control of both the marking software, image processing programming and mechanical design. Below is a complement of our marking solutions, both standard and customised. Please do not hesitate to contact us to request a free consultation of your product design and manufacturing challenges. We are ready to provide you with a proposal from our experienced and dedicated team.
Laser marking on large glass flat panels
A strong market for Hylax is marking of traceability codes on glass panels. This marking is done on thin film coatings on the glass. The markings consist of both alphanumerics and data matrix. Space is a premium and the marks have to be small. Furthermore post marking data verification is required to ensure readability of the codes. This is done using our Scanvision technology. As the glass of the recent generations are quite large, multiple laser heads are ganged together to optimised the speed of processing the panel and to reduce the size of the machine.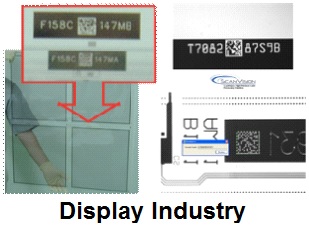 For more info see
http://www.hylax.com/glass-panel-laser-equipment/
and http://www.hylax.com/scanvision/
Laser marking on transparent ITO layer on glass panel
Laser can be used to mark on transparent ITO layer on glass panels. This is used mainly in flat panel display manufacturing industry where there may be a need to mark on accurate fiducials for subsequent process registration and location. Although ITO is transparent but with certain lighting condition the result is highly visible in the image captured by the camera.
Black polycarbonate micro marking
In efforts to prevent counterfeiting and for protection of product brand, one solution is to mark a small unnoticeable ID code onto the product. This not only help identify whether a returned unit is genuine but also provide historical information to assist in customer service and troubleshooting of the failed unit. Inside such a small data matrix can be stored full manufacturing information of the returned product for exhaustive failure analysis. Laser is a good tool for this purpose. It can be used to mark a large variety of materials ranging from plastics to metals. The small mark also caters for small objects even screws and fasteners. Thus the whole inventory of a factory can be uniquely identified giving total control of manufacturing and production.
Bundle with ultra stable solid state DPSS lasers, Hylax HT2000SV UV Scanvision laser marking system is capable of marking an 2D data matrix code of 140 alphanumerical characters in a code dimension of 0.4 x 0.4 mm on a black polycarbonate material. The system is able to perform the post mark verification in situ after marking process.
Cycle time : Marking + Verification = 1 second

PCB laser marking system
Hylax HT7010 PCB Laser Marking System is a cost effective tool to replace printed labels and other methods of having unique numerical codes on PCBs by marking serial numbers, barcodes, 2D Matrix (e.g. for tracking purpose), text and even logo directly onto the PCB surface.
We are the pioneer in this application with more than 14 years of experience and hold a patent for "Using laser to mark on Printed Circuit Boards (PCBs)".
Features:
Vision positioning and inspection
Marked data verification
High speed marking
User friendly Window based software
Customizable for different board size and process flow
In-line and Off-line configurable
Auto serialization
Group serialization
Multi-position and orientation marking
Integrated barcode reader
Compact size
Low maintenance
Advantages:
Vision positioning and inspection
Cost saving – No consumables and minimal manpower involvement
Automated labeling – No manual labeling by operator
Accurate label position
Heat resistant – Withstand high temperature
Excellent mark quality – No smudging of mark
Highly reliable mark quality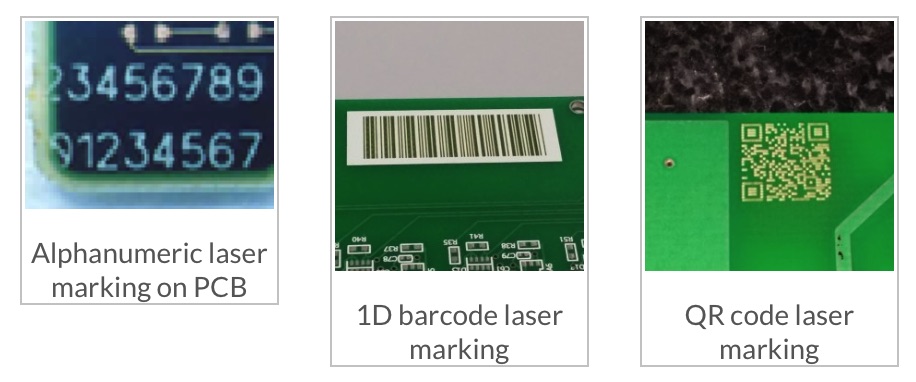 ---
LED package marking
With the miniaturization trend of LED devices, there isn't much space available in marking a code on the product for traceability. Our proven proprietary Scanvision technology allows the break through in this challenging requirement. Achieving mark landing accuracy of +/- 20 um, and with the small character size of 0.2mm, the system is able to print an alphanumeric code at high speed on the device for traceability process.
For reel to reel packaging we have developed a handling system coupled with our Scanvision laser marker to achieve marking on component side wall at high speed. Besides that we have top marking reel to reel handler too. http://www.hylax.com/reel-to-reel-package-handler/
Quad heads laser marker system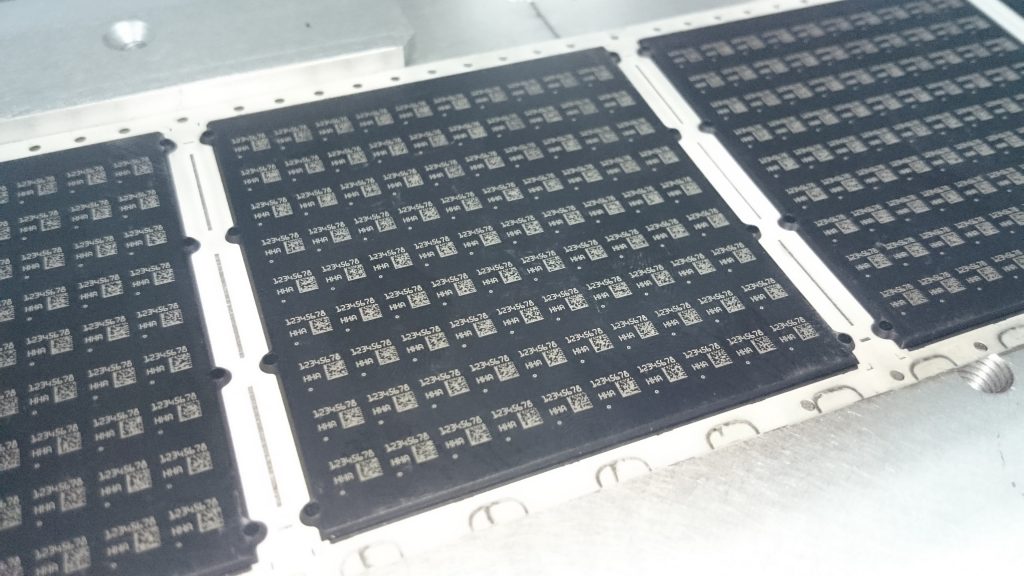 Quad heads laser marker system is an evolutionary breakthrough in traditional laser marking in the SEMICON lead frame marking industry. Having four laser marking heads with a single laser source, Hylax's quad heads laser marking system is capable of achieving double the capacity output of traditional dual heads system. With our technological innovation, using a DSP board controller for each head with real time synchronisation interface between them, all controlled by a master PC, the system is capable of marking serialized 2D data matrix codes concurrently from the four marking heads. Fewer number of laser sources reduces cost and laser spares requirement for long term maintenance. With our all round competency in this field we stand ready to assist in your requirements. Pls contact us through the buttons below or write us a more detail note in our contact form.
See also http://www.hylax.com/scanhead-dsp/
Deep engraving on metal plates
Lasers can be used to do deep engraving on metals like stainless steel and aluminium. This gives a very permanent mark which will still be legible under extreme wear and tear. We can provide a full stand alone unit with class one enclosure for eye safety requirement.
Marking readable barcodes on metal glossy surface
Lasers can be used to mark readable barcodes on glossy or shiny metal surface. This is useful to replace using labels of stickers especially when running serial numbers are needed. The process is straightforward, clean and lents itself readily to automation.
---
Laser marking of logos on sand blasted fine polish aluminium surface
http://www.hylax.com/lasersurfacepolish/
---
Extremely fine laser marking on diamond
With Hylax's proprietary Scanvison™ Technology and its auto focusing features, the system is capable of achieve marking with landing accuracy of +/- 15um allowing no positioning errors in the whole marking process. Please contact us today to discuss your requirement. Finer marking can be achieved by latest innovative laser source and marking systems as in picture below.